Ring Orders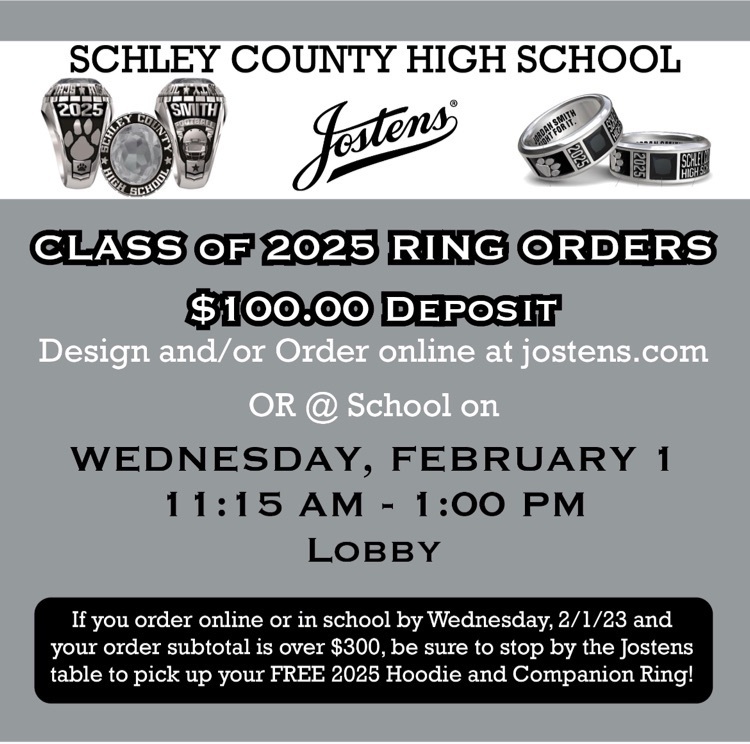 Attendance: Just a reminder HS that unless your absences are excused, teachers will not give you the work to makeup. Please get all absences excused. Also, remember if you exceed your absences, you lose credit for the class unless all attendance time is made up. If you have any questions, see Mrs. Green or Mr. Calhoun.

Just a reminder, no ear buds or headphones in the building; phones are to be put in the hanging phone cases in the teacher's rooms upon entering the room.

it is time for the Young GA Author competition. MS and HS students, if you have written a story, poem, song, or any writing and you would like to enter it in the competition, please submit to either your English teacher or Mrs. Green. The deadline is early February, so let's get writing.

Attention Class of 2023: Don't let senior supply delivery slip up on you! Your senior supplies will be delivered in March. Jostens will accept payments on your graduation orders Wednesday, February 1, from 11:15-1:00 in the lobby. Cash, check, and money order will be accepted. Please call the Jostens office to pay by credit or debit card, or pay online at
www.gagrad.com
.

Attention Class of 2025: Commit to graduate with your class! Jostens will be here to take class ring orders Wednesday, February 1, from 11:15-1:00 in the lobby. To tell your story and design your ring, go to
www.jostens.com
. Remember to print your online design or complete an order form and bring it with your $100 down payment.

Scoliosis screening for 6th graders will be on February 2, 2023. Please wear appropriate attire for the screening. If you do not want to participate in this screening form 4400 needs to be returned to the nurse with the opt out section filled out with parent's signature.

Prom Dues are to be paid by February 1.

Junior-Senior Prom 2023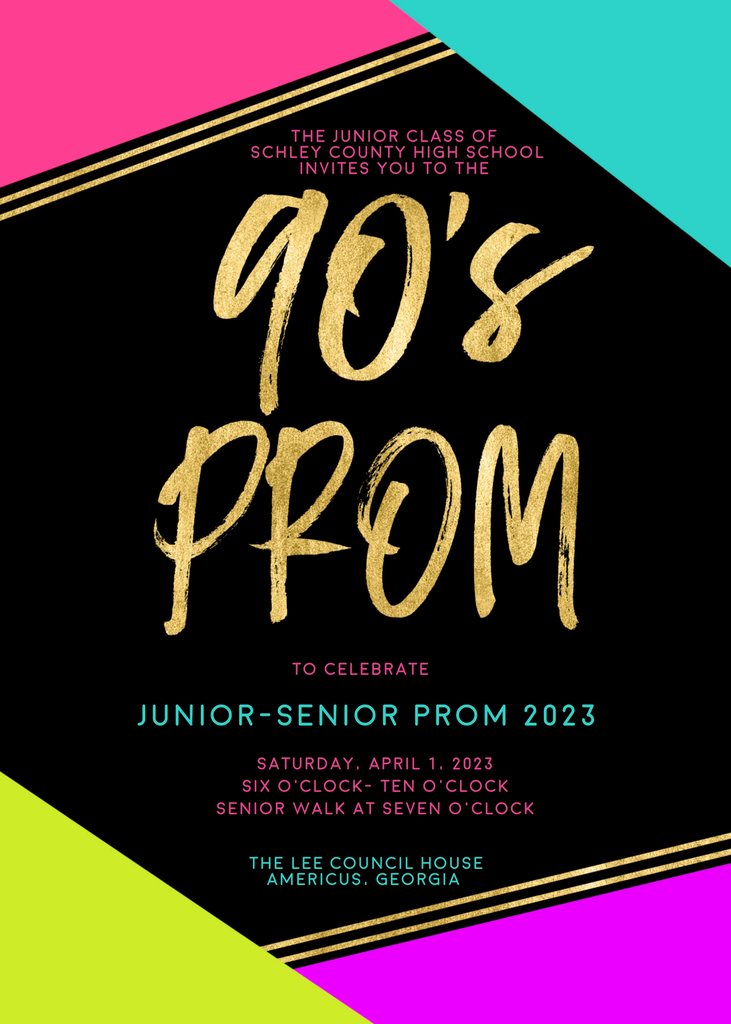 MS Baseball tryouts have been postponed until tomorrow 1/24 due to wet field conditions.

Report cards are delayed due to the Internet issues in the system. We will set a date for report cards when Internet service becomes available.

Due to internet outage at the school we will be accepting cash at the gate for tonight's games with Webster County. If you have already purchased through GoFan please have the tickets pulled up when you arrive. Varsity Boys tip at 6:00 and Varsity Girls will follow around 7:30.

Due to internet outage at the school and tonight being a non-region game we will be accepting cash at the gate for tonight's games with Sherwood Christian. JV begins at 4:30 and Varsity at 6:00.

GAME TIME CHANGE: Due to the threat of strong storms moving in this evening, the MS basketball game has been moved up to a 3:30 Tip-off.

Congratulations to Tillary Tyler for making the Georgia All State Band!!! The Georgia All State Band is the most prestigious band under the Georgia Music Educators Association (GMEA). Students must compete against students across the state at multiple auditions to make the band. We are very proud of you, Tillary, and know you will represent us well.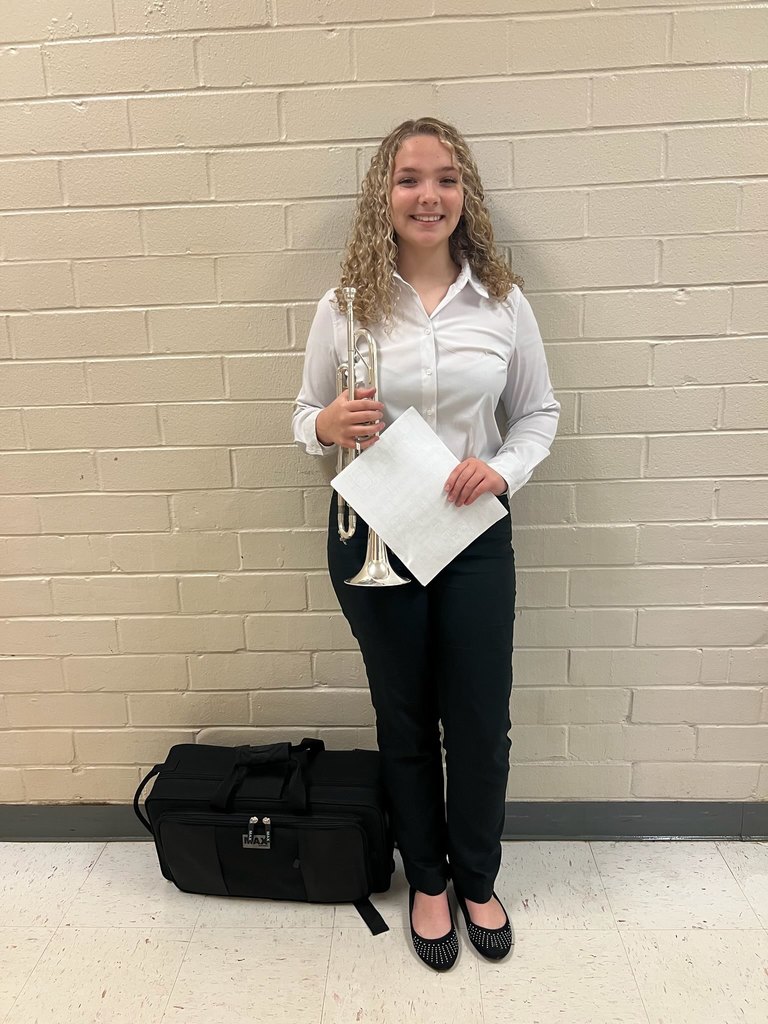 Reminder to our high school students that we will be on a reverse schedule tomorrow due to semester exams. The schedule is below: 3rd Block 8:00-9:35 4th Block 9:40-11:15 1st Block 11:20-1:25 HS 1st Lunch 11:20-11:45 for the following 1st period teachers C. Cheek-Albertson-Brunson-J. Sellars-E. Sellers-Rigsby-Howell-Bass-Gilpin-Reese HS 2nd Lunch 1:00-1:25 for the following 1st period teachers Myers-Morrison-Roland-B. Moore-Rooks-R. Calhoun-Scott-Alford-Skipper-G. Smith 2nd Block 1:30-3:05

Washington Youth Tour – June 15-22,2023 Time is running out for your students to apply for the 2023 Washington Youth Tour. Flint Energies will select four student delegates to represent them on a phenomenal, weeklong, all-expenses-paid trip to Washington, D.C. to get to see firsthand what makes our nation work. While there, delegates will meet up and travel with more than 115 other student leaders from around Georgia. As an added perk, delegates will also receive a $2,500 college scholarship upon high school graduation. Applicants must be a current junior (rising senior) and be 16 by the date of the tour (June 15). Students must live or attend school within our 17-county service area. Applications are online at flintenergies.com/wyt and must be submitted by January 23.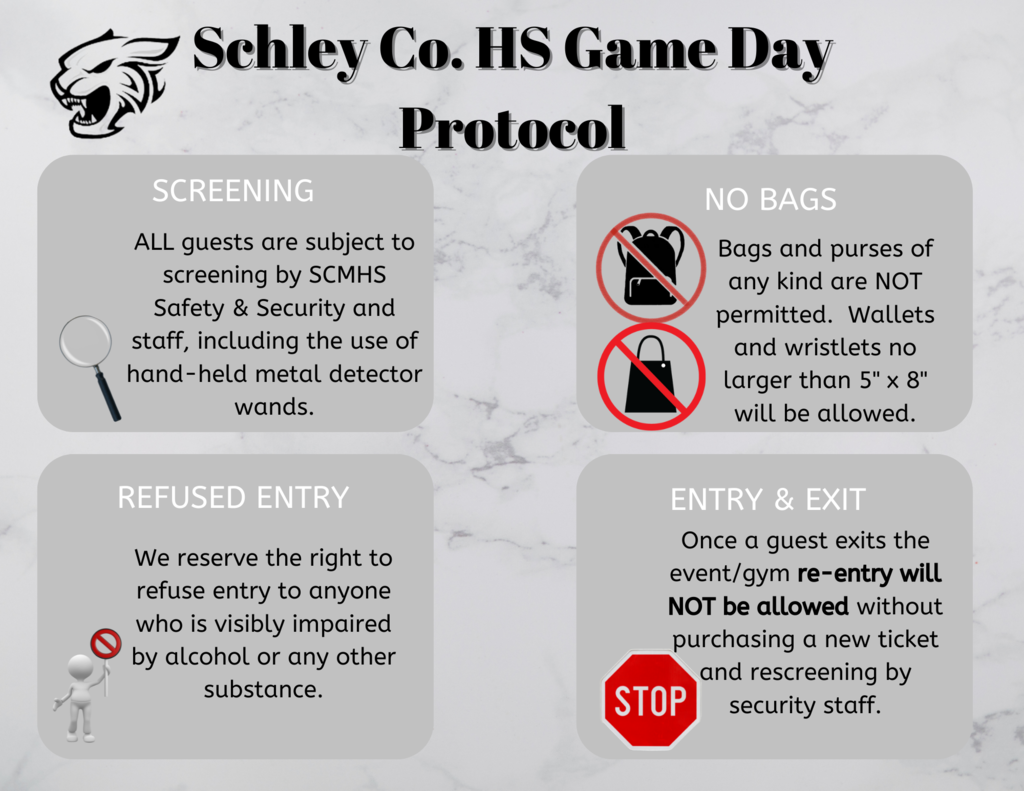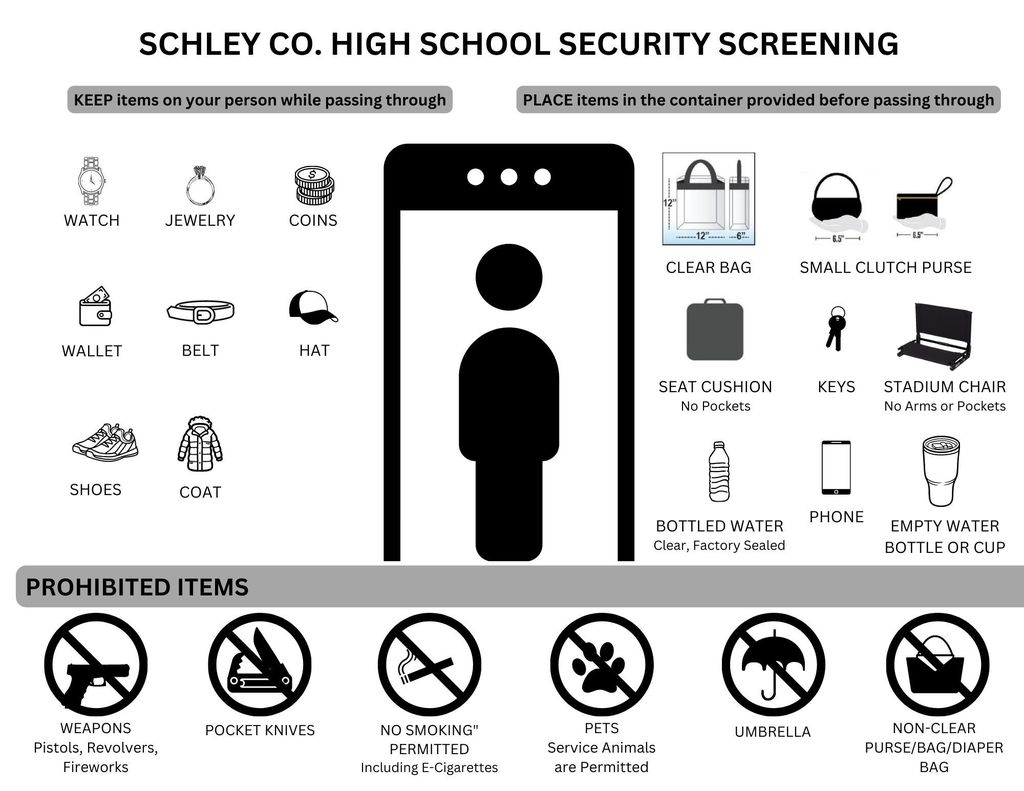 Mrs. Rachel Calhoun's U.S. History classes visited the Little White House in Warm Springs, GA today. They were able to tour the museum, the property, and the Little White House. President Roosevelt's personal car he used in Warm Springs during his life was also on view.