Graduation will be held at the GSW Storm Dome on June 3, 2023, at 9:00 a.m.

Regarding basketball practice... Middle school boys will practice with high school the rest of the week. It will be from 12:30-2:30. Middle school girls are welcome to practice with HS girls as well from 11:45-12:30.

The College Board is the organization that handles all Advanced Placement Testing in the United States. Each year they award over 66,000 students nationally for their outstanding performance in the classroom and on College Board assessments. We are proud to announce that Salutatorian Grace Layman is being recognized by the College Board for her outstanding achievement! We are very proud of you!

Reminder our Junior Wildcat Basketball Camp starts tomorrow. The camp is from 8:30-11:30am. Concessions will be available, and personal water bottles are allowed.


We are excited for tomorrow's graduation ceremony as we honor the Class of 2023! This is a dignified ceremony that your family has been waiting to watch you participate in. All seniors are expected to conduct themselves in an appropriate manner. We look forward to celebrating our seniors tomorrow at 9:00 AM!

7th grade supply list for 2023-2024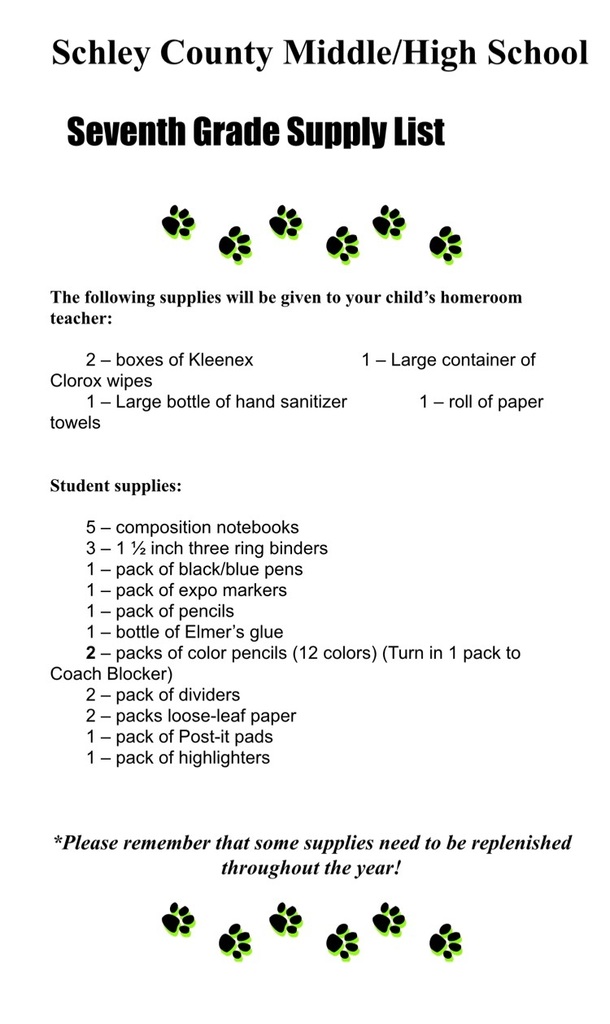 Report cards will be available for pickup beginning on Tuesday.

Thank you to Ellaville Baptist Church and the Ornelas Family for providing lunch for our staff today! It has been a great school year and today's lunch helped to top it off!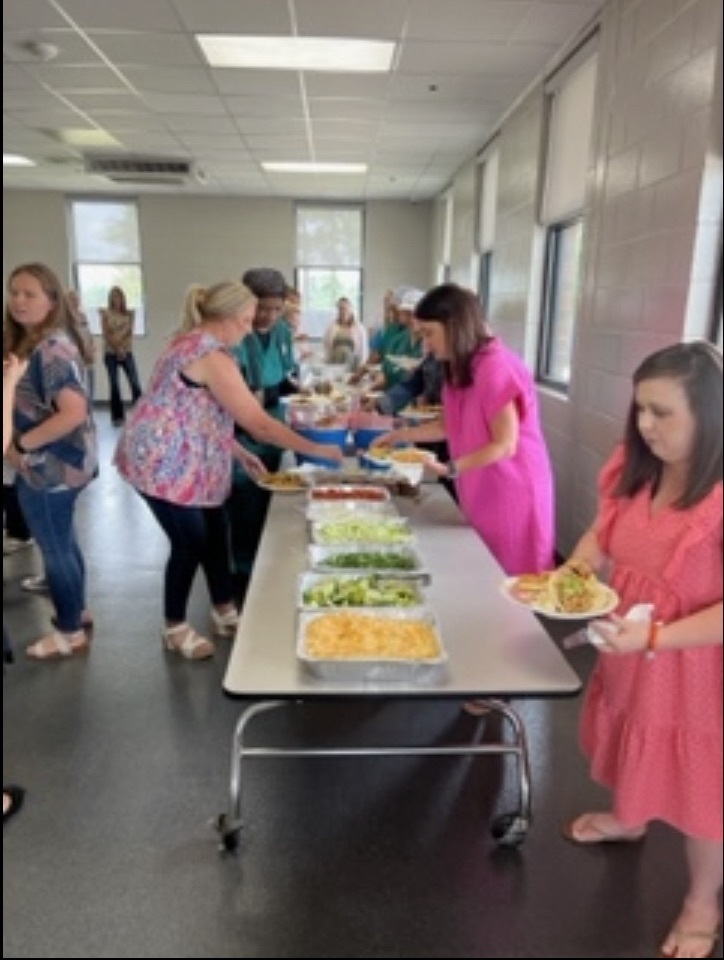 For those that will be attending graduation on Saturday, June 3, 2023, at the GSW Storm Dome, a few reminders per GSW: **NO Confetti, Balloons, or Flowers are allowed inside the Storm Dome **Parents are not allowed on the gym floor before, during, or after the graduation ceremony **Graduates and faculty only are allowed in the intramural lobby before the ceremony **Parents can meet their graduate in the lobby area or outside in the plaza area AFTER the ceremony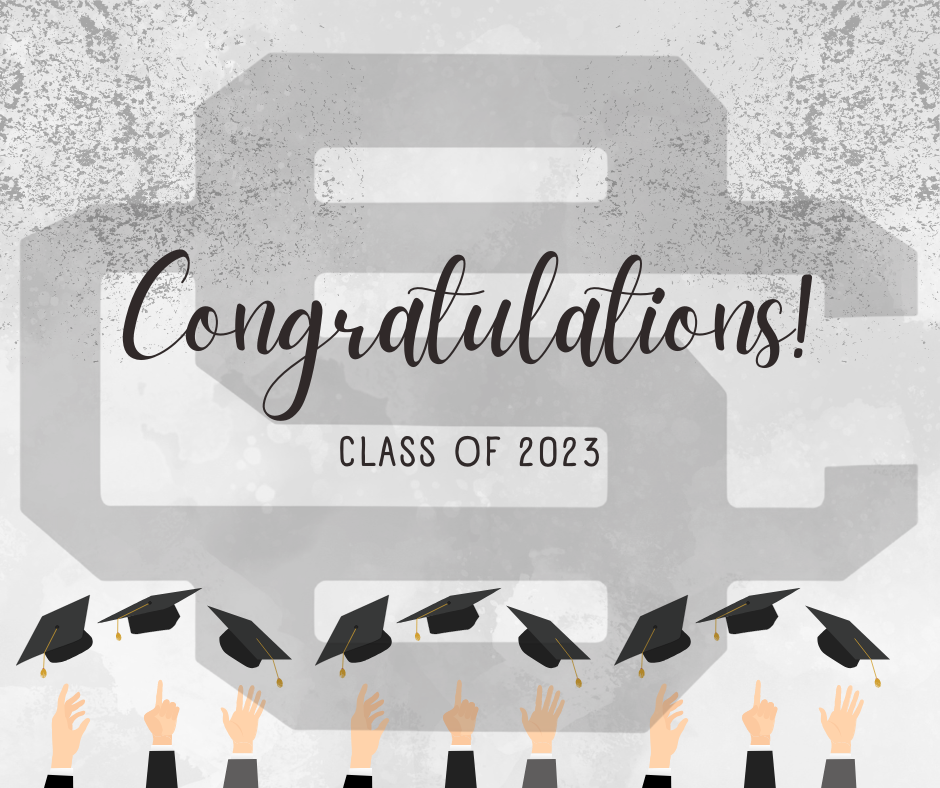 Reminder: the senior athletic banquet is tonight, 5/30 at 6:00. Senior athletes, one act play and literary participants are free, each can have 2 guests and their tickets are $10 at the door.

Reminder: the senior athletic banquet is tomorrow night at 6:00. Seniors are free, each can have 2 guests and their tickets are $10 at the door.

High school testing schedule for next week: Tuesday will be 1st & 2nd block exams with regular schedule throughout the day. Wednesday will be 3rd & 4th block exams with 3rd & 4th block classes being at the beginning of the day.

Due to the high number of forms turned in today, Coach Moore has decided to wait until tomorrow to order basketball camp t-shirts. This will give everyone one more day to turn in their form and guarantee their correct shirt size. Form is here:
https://5il.co/1uiq9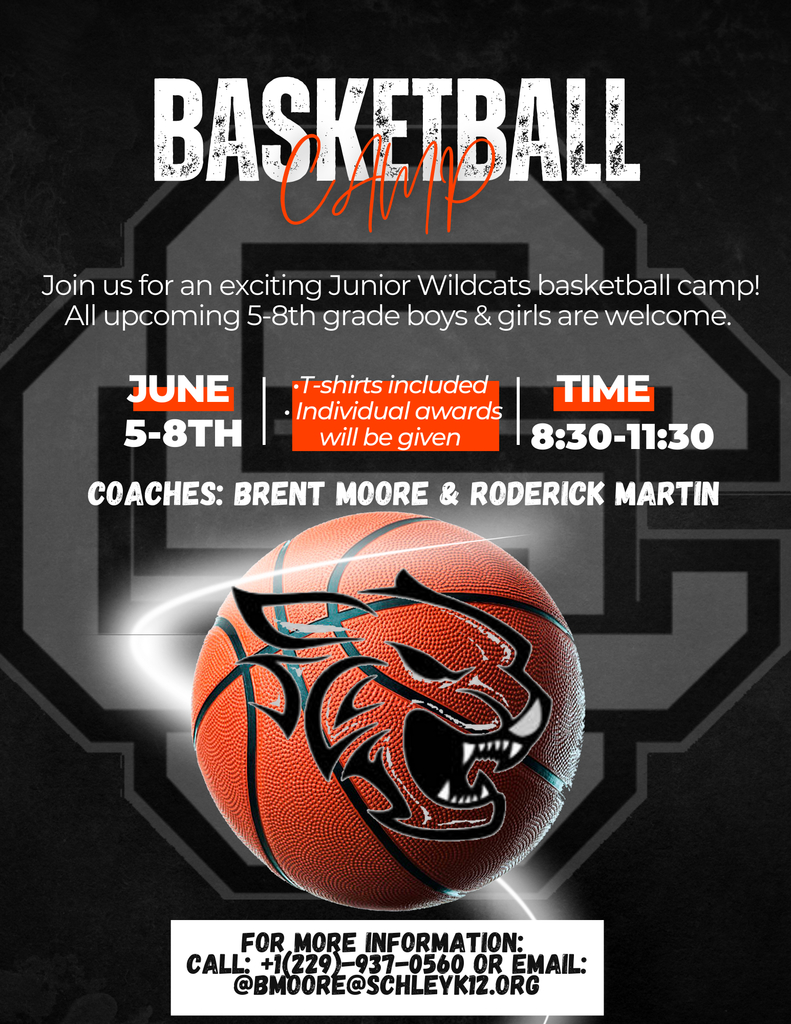 Seniors...please go to Mrs. Howell's room today to get your yearbook.


Senior Reminders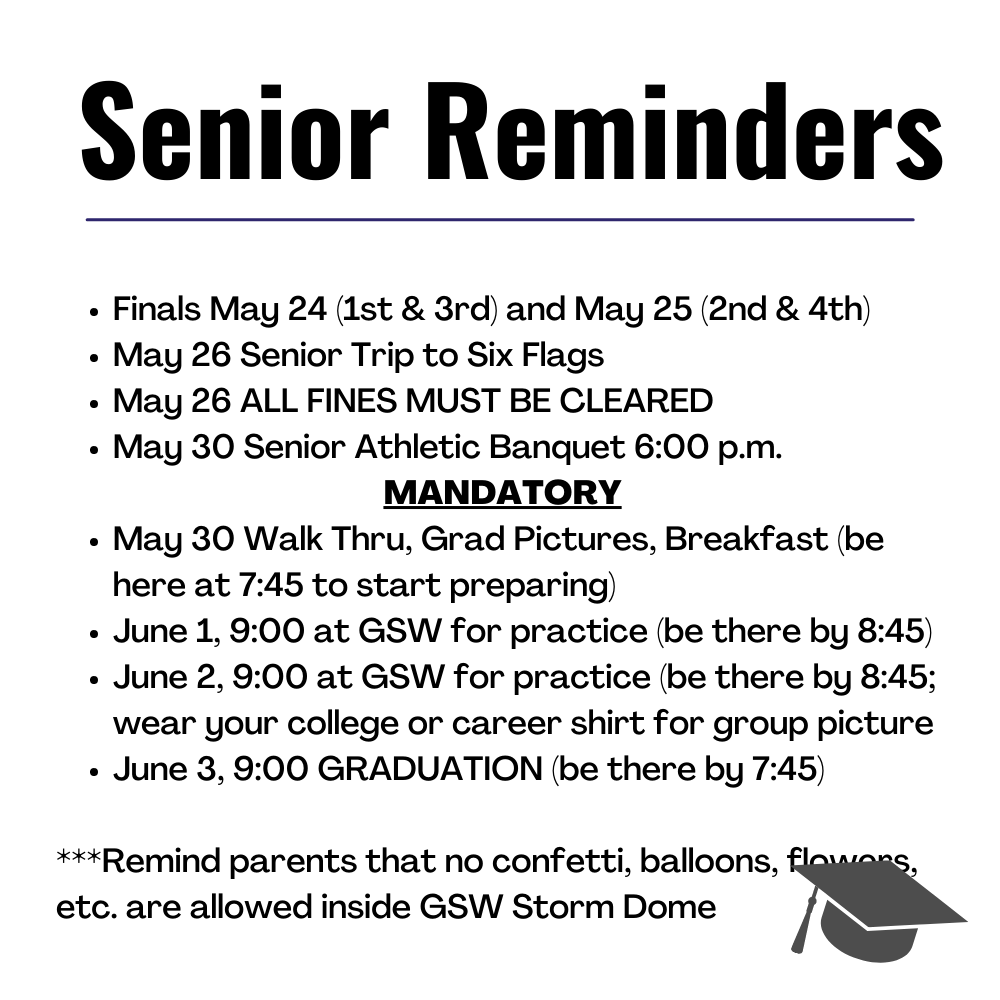 Seniors...please be at school by 9:00 a.m., Friday, May 26, to leave for your Senior Trip. More information about Friday has been emailed to you. Please check your email.


Due to last night's weather, Game 2 was postponed until today. It will resume at 1:00 PM. Students that want to attend will be allowed to check out at 12:45 PM but must present the following to the main office staff. A purchased ticket on Go Fan. (Go Fan reactivated all tickets purchased for yesterday's games.) You will have to show the office staff your purchased ticket Permission to attend from your parent for the baseball game at 1:00 PM This can be an email sent to Mrs. Brown at
kbrown@schleyk12.org
Parents of middle school students will be required to check out their child in order to attend. Keep in mind that the absence will count for 3rd and 4th block for high school students and for the remainder of the day for middle school students.