Seniors...We had our first TAA this morning. During TAA information regarding FAFSA Parent Day
https://5il.co/z55t
, Dual Enrollment Registration
https://5il.co/z55s
and Probe Fair
https://5il.co/z55u
permission form were given out. If you were not here or did not receive any of the 3 letters listed above please find them at the site listed beside each title.

2021 Conservation Themed Poster and Photo Contest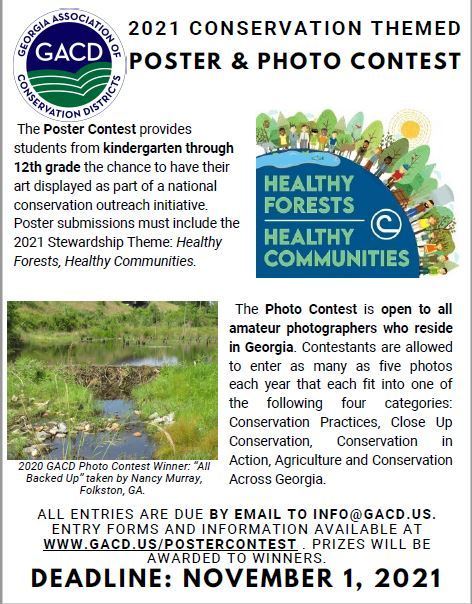 Any boy or girl wanting to play basketball this year needs to report to the gym next Thursday morning during club meetings. Please see Coach Scott or Coach Moore if you have questions.

Today is the last chance to get your discounted presale tickets for Friday night's football game against Marion Co. They will be sold today from 8:30-2:30 for $8. Tickets at the gate tomorrow will be $10.

FBLA members wanting to attend the Perry Fair need to see Mrs. Cheek for a permission form.

We will have the Spirit Store open on Friday.

Attention FCCLA members...fair permission slips are due this Thursday. Students who are competing, submit your projects to Mrs. Driver no later than next Tuesday.


FFA Mums will not be delivered to the school until next week, Thursday, September 23, 2021.

Students that wish to bring a date to homecoming that does not attend Schley County, must submit an "Out of County Guest Approval Form". Forms can be picked up in the front office of the high school and must be returned to the office by October 7, 2021.

Homecoming Dance Information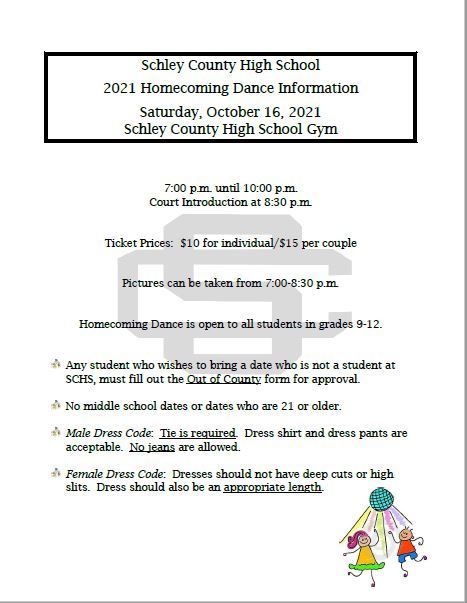 Homecoming Week Days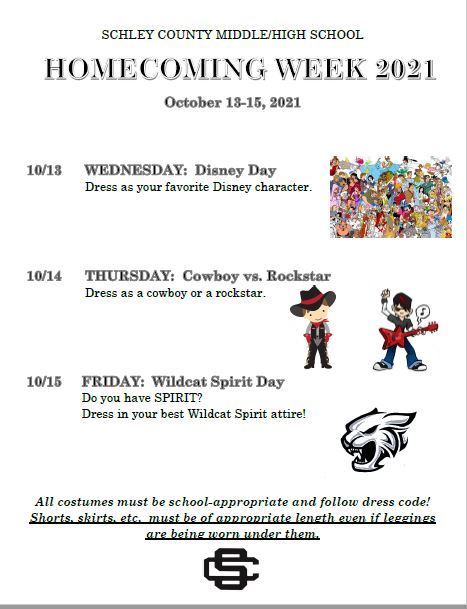 Congratulations to the following young ladies for being chosen as Homecoming Court Representatives: 9th Grade: Harper Bishop and Makaylah McKellar 10th Grade: Chloe Green and Abigail Sellers 11th Grade: Zoe Molina and Mackenzie Pugh 12th Grade: Madelyn English, Berkley Goodin, Anna Grace Larson, and Natalie Navarro

Are you ready for Homecoming? We are so excited to be having Homecoming this year! Homecoming Week will be October 13-15, 2021 • Wednesday is Disney Day • Thursday is Cowboy vs. Rockstar Day • Friday is Wildcat Spirit Day Homecoming Game and Crowning of Homecoming Queen will be Friday, October 15, 2021 Homecoming Dance will be Saturday, October 16, 2021, from 7:00 p.m.-10:00 p.m. • New DJ • Photographer for picture packages • Decorations and designated dance floor More information will be released in the coming days!! We cannot wait!

Presale tickets for Friday's game with Marion will be sold in the High School office Tuesday, Wednesday and Thursday from 8:30-2:30. Presale tickets are $8. Tickets at the gate Friday will be $10.

Mum orders need to be given to Mr. Sellers today and tomorrow.

If you cannot make it to the game in Butler tonight you can listen on 94.7, the WDEC app or online at americusradio.com

Attention Class of 2023: If you have not picked up your class ring, you may do so on Friday, September 10th during lunch in the lobby. Please pay your remaining balance with exact cash or money order. No checks will be accepted. You may also pay with debit or credit at orders.jostens.com or by calling the Jostens office.

Attention Class of 2022: Order your ultimate symbols of success! Order your Announcements and Cap & Gown at gagrad.com, or Jostens will be here to accept orders on Friday, September 10th during lunch in the lobby. Place your order with a $100 down payment and a completed order form. If you have already placed an order, please make payments at gagrad.com, or on the 10th to the Jostens representative.